Do you want to make extra money from selling your used or old stuff?
We looked into hundreds of websites to sell stuff locally and picked the best ones to create this comprehensive guide for you. 
In this article, you'll discover some of the easiest websites to sell items for free. Expect ease of putting up things for sale, enormous audience reach, and great value for used items.
We've narrowed down the list, so you don't have to do the hard work. Avoid wasting time and opportunities to sell your items for the most value if you fall for sites that require difficult sign-up processes or high listing fees. 
What are the Best Websites to Sell Stuff Locally?
Check out these top 12 websites to sell items online for free locally. In this section, you'll discover how to list old stuff and how much you can earn from them.
Craigslist: Best for Localized Selling
Craigslist is a classified advertisements website containing sections dedicated to sale items, jobs, discussion forums, and more. It was founded in 1995, and currently, it has over 50 billion page views per month. 
The increasing page views each year helps reach thousands of people interested in buying secondhand products.
So what are the items worth selling on Craigslist?
Electronics
Furniture
Clothing
Appliances
DVDs and video games
Building equipment
Here are the steps to sign up and sell stuff online locally via Craigslist.
Visit the Craigslist website. It should automatically redirect to your locality. If not, try manual searching via the online site.
Click the "create a posting" button on the upper left side.
On the next page, choose "for sale by owner," then tap continue.
The website will redirect you to another page. Select the category of the items you want to sell. Click continue, then answer the form on the next step.
Input as many details as possible, like manufacturer, model name, size, and condition.
After completing the questionnaire, tap "continue."
You will then be required to upload high-quality photos to attract more buyers.
Click "done with images" then tap "publish."
Confirm the sale through email for Craigslist to put it up online. 
Facebook Marketplace: Best for Selling to Local Interest Groups
Facebook is an online site that connects almost 3 billion people across the globe. Statista discovered that last 2021, Facebook had around 3.5 billion users.
Aside from being a social media platform, people also use Facebook to sell items. Some individuals reported earning as much as $700 by selling used stuff through the platform. However, it depends on the products you're selling.
So what are the ideal items to list on Facebook Marketplace?
Furniture
Books
Clothes
Shoes
Electronics
Office supplies
Sports equipment
Gardening equipment
How can you set up a Marketplace linked to your account?
Open Facebook via the website or mobile apps.
Tap Marketplace located in the left sidebar if you're using the website. 
Click "Create New Listing," then choose "Items for Sale."
Tap "Add Photos," then upload clear photos of the items.
Make sure to add essential information, such as features, price, and delivery options.
Click Publish to finally post the listing. 
But what if you're using the mobile app?
Open the Facebook app on your device.
Look at the bottom of your see the Marketplace icon.
Click "Sell" and "Create New Listing."
Under Create New Listing, tap "Items."
Input necessary details, including the price and delivery method.
Click "Publish" to list the product online.
Nextdoor: Best For Quick Selling
Nextdoor is an online networking app for neighborhoods, making it an excellent option for local selling.
Your extra income on this app will depend on the items you'll list for sale. Since you're connecting with neighbors, it's best to leave a little room for possible haggle.
By using Nextdoor, you're likely to deal with genuine and sincere buyers. Since app users are more likely to be community-spirited, they may be more cautious about being inconsiderate when negotiating prices.
What are the top-selling items on Nextdoor?
Electronics
Books
Baby products
Maternity clothes
Home appliances
Pet supplies
Sports equipment
Outdoor supplies
So how can you list an item for sale?
Here's the process if you're accessing the site through the website.
Tap "Post a message, event, poll, or alert to neighbors" located at the top of your Newsfeed.
Tap the "Sell or give away an item" button.
Choose the neighbors who you want to see the products.
Type the item's original name to establish authenticity.
Provide information, like key features, size, condition, and color.
Input your preferred price.
Select the prodiuct's category.
Upload high-quality pictures of the item, then tap "Post."
Check out these steps if you decide to use the mobile app.
Open Nextdoor's iPhone or Android app.
Tap the on your iPhone or the plus sign on your Android screen.
Choose the "Sell or give away an item" option.
Select the category of secondhand objects.
Include clear photos of the item.
Type the title and set your desired price.
Give details as mentioned above, then click "Post" to publish.
eBay: Top Auction Website
eBay offers an online marketplace where you can sell unwanted items locally and internationally. It offers international shipping, allowing you to ship products to over 210 countries.
However, eBay deducts 12.9% of the sale price plus $0.30 per completed order.
Good news: you can list up to 250 items monthly for free. eBay only collects fees once someone buys the listed product.
What are the best-selling products on eBay?
Jewelry
Video games
Vintage items
Musical instruments
Mobile phones and accessories
Household products
Garden tools and equipment
These are the steps to list your items for sale.
Go to the Selling page, then click "List an item."
Identify your item by typing keywords or choosing from possible matches.
Select "Used" as the condition of the product.
Tap "Continue to listing."
Provide the title, specifications, and upload up to 12 photos.
Indicate your preferred price, then set up shipping options.
Wait for eBay's email confirmation that your listing is live.
Decluttr: Easy Selling Process
Do you have old CDs, DVDs, electronics, and books?
Decluttr offers a platform for buying and selling such items for a reasonable price. It provides a legitimate and trusted way to earn extra cash from secondhand and refurbished products.
You can earn as much as $173 from a used iPhone 8 Plus and $91 from Samsung Galaxy Note 8. These are just two examples of different electronics you can sell on Decluttr.
Here are the items Decluttr looks for.
CDs, DVDs, and games
Cell phones
Kindles
Tablets
Smartwatches
Apple products
Video game consoles
Here's how you can sell old items on Decluttr.
Get an instant price of the product on its Selling page.
After confirming the item and its condition, tap "Continue to Checkout."
Ship the box to Decluttr by attaching the free shipping label.
Wait for the product to go under Quality Assessment. After almost four business days, you can already expect the payment from Decluttr. You can choose from PayPal or direct deposit.
LetGo: Best Place to Sell Electronics
From the name itself, LetGo offers a way for you to declutter and sell used items. It currently has over 20 million monthly users who regularly check the app.
Your extra income may depend on the products you're willing to sell and their condition. For example, you'll earn more cash when you sell electronics than books, except if they're collectibles.
Also, take note that LetGo collects $0.99 to $3.99 for every product sold. The good thing is that you can list items for free.
So what are some of the prohibited products on LetGo?
Used baby car seats
Used cosmetics
Weapons
Dangerous items
Services
Adult content
How to sell products on LetGo?
Click the "Sell Your Stuff" button located at the bottom of the screen.
Your phone's camera or camera roll will automatically open, prompting you to upload a picture of the product.
Tap "Post," set your preferred price, and click "Done."
Choose the item's category.
Wait for this message to show: "Congratulations! Your listing has been posted."
Add details, such as specifications, features, and dimensions.
Post another secondhand product. There's no limit on how many units you'll list on LetGo.
Instagram: Free Listing of Used Items
Instagram, a social networking app, allows people to edit and share pictures. According to Statista, Instagram has over 1 billion users worldwide.
It has been used to promote products and establish an account similar to that of an online shop. Fortunately, like Facebook, Instagram doesn't collect fees for posting your products.
With Instagram and Facebook, you and the buyer have the freedom to choose which payment method works best for the both of you. For example, you can require the buyer to pay via digital wallet or mobile banking app.
Like other sites, your income varies depending on the items you want to sell. It also relies heavily on the quality of pictures, captions, and credibility of your account.
What are the top-selling commodities on Instagram?
Jewelry
Clothes
Pet products
House decorations
Fitness equipment
How can you use Instagram as an online shop?
Sign in to your shop's Instagram account.
Make sure you have a public account.
Write a clear and engaging bio.
Show off used stuff through appealing pictures.
Include interesting captions with emojis and add up to 30 hashtags.
Click "Post" to share the photos with your followers.
Build a catchy aesthetic for your account.
It would also help to grow your followers by connecting to other shops which sell secondhand items. This way, your account can enjoy more visibility.
You can also take advantage of story highlights in promoting buyer reviews or unsold products. It can also be used for categories if you have a lot of old stuff to sell.
Tradesy: Best for Women's Fashion
Tradesy is a buy-and-sell website where you can list women's clothing, shoes, and accessories. Yahoo reported that last 2021, Tradesy had 7 million active users, making it an excellent local online marketplace.
Here's a fun fact: you need to actually send your used items to Tradesy. This is a plus for people wanting to declutter as they get to free up space in their home and keep their items with Tradesy.
However, you cannot sell the item on another platform at the same time. Also, you have to trust that your items will be safe with Tradesy. Lastly, paying the shipping fee is a risk if Tradesy can't sell the item or if you need money quickly. 
So how much can you make on Tradesy?
You can earn as much as $1,000, especially when you have designer items in your closet. Again, the prices vary depending on the product's value. For example, you'll earn more from a luxurious bag than you would from high-end sunglasses.
However, take note that Tradesy collects a $7.50 commission fee for items below $50 and a 19.8% charge for products sold for $50 and above. 
If you're looking to earn the full amount of your money, it might be more reasonable to list your items on websites that offer free listing opportunities.
What are the in-demand pieces on Tradesy?
Designer shoes
Designer bags
Watches
Jewelry
Follow this guide if you're willing to sell on Tradesy.
Visit the website, then tap "Start Selling" in the top right corner. 
Click "Start My Listing."
Select from three categories:

Women's Clothing, 
Weddings, 
Shoes, Bags, and Accessories.

Add at least 3 high-quality photos.
Input dimensions, condition, material, and other specifications.
Set your preferred price.
Choose shipping options from Tradesy Shipping Kit, prepaid shipping label, and independent shipping.
Send your old stuff to Tradesy.
Wait for email or texts if someone buys your designer pieces.
Expect the payment after 7 days upon the confirmation of the sale.
Carousell: Best for Direct Selling
Carousell is a consumer-to-consumer website for buying and selling. According to Forbes, since the site's launch in 2012, it has garnered millions of users. As a result, you'll have the opportunity to advertise the item to a large audience.
What should you prioritize to sell on Carousell?
Mobile gadgets
Luxury goods
Furniture
The items mentioned above are popular to users, so if you want to sell quickly, you should prioritize listing such products.
Do you want to list the items mentioned above? Check out this step-by-step guide.
Open the app, then select the plus icon.
Upload up to 10 photos by taking snaps on the spot or picking from your gallery.
Fill in details, like title, description, specifications, size, brand., and price.
Tap the "List it!" button at the end of the form.
Poshmark: Best for Selling Luxury Items
Poshmark caters to a community of buyers and sellers of new and used products. As of 2020, it has over 60 million users. It's an excellent place to promote your old stuff.
Here's a list of the best-selling items on Poshmark.
Shoes
Luxury bags
Men's and women's clothes
Activewear
How can you sell on Poshmark?
When using the app, click the "Sell" button located at the bottom of your screen.
Add up to 16 photos of the item, showing different angles.
Provide the title, description, and price.
Click "Next" once you're done finalizing the details.
See the guide below if you're using the website.
Log in to the Poshmark website.
Tap "Sell on Poshmark," located at the top right corner.
Upload images one at a time or drag multiple pictures for convenience.
Fill out the form, including the title, description, and price.
Click "Next" to list and publish the product.
Etsy: Best for Old Novelty Items
Etsy is an online store that connects buyers and sellers worldwide. According to Statista, Etsy had over 81.9 million buyers last 2020 alone. Individuals from 234 countries can discover your used items.
Despite its large user base, Etsy collects $0.20 for every listing. This can add up if you're doing a big spring clean and are trying to sell lots of stuff. If you just want a platform where you can throw up a bunch of listings and see what sticks, platforms like Facebook Marketplace and Instagram would be more affordable.  
What are the items you should sell on Etsy?
Jewelry
Accessories
Collectibles
Clothes
Vintage items
Home and office decorations
Are you keen on selling on Etsy? Below are the steps on how to open an Etsy shop.
Visit the selling page and click "Get Started."
Choose language, currency, and country.
Tap "Save and continue."
Input a unique shop name, then click "Save and continue."
Click "Shop Manager," select Listings, then tap "Add a listing."
Add quality photos and videos, as well as the thumbnail image.
Input title, details, and preferred price.
Set up the shipping method.
Publish your listing on Etsy.
Why Should You Sell Your Old Stuff?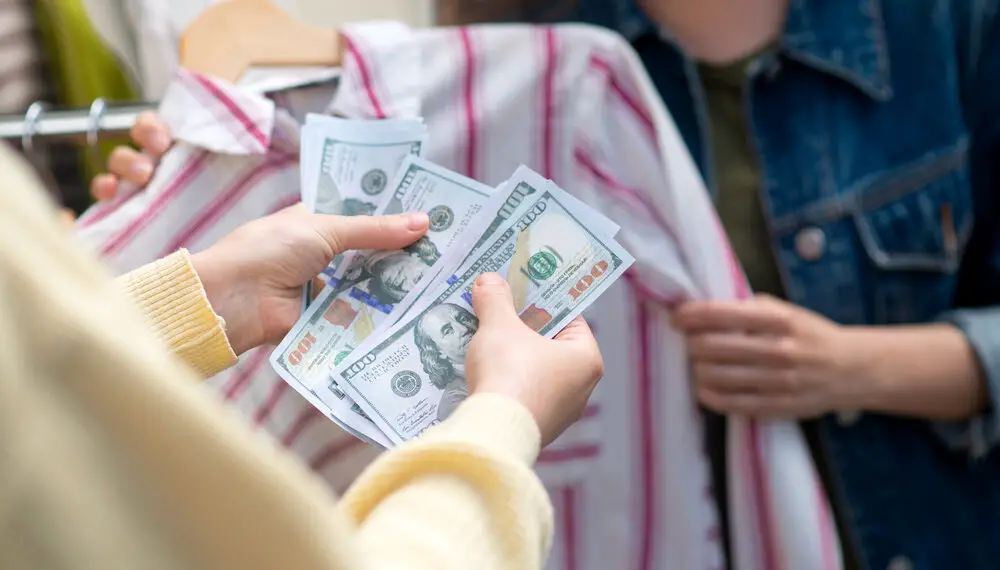 It's an easy way to earn extra money while decluttering your place. 
Aside from personal gains, it's good for the environment since selling used products extends the lifespan of such items. More people can enjoy using your old stuff, provided that it's in good condition.
What are the Best Ways to Price Items for Sale?
Do you have hundreds of old stuff but don't know how to price them? Check these 3 tips to make more money.
Check your competitors.
First, check other people's listings that include the exact products you advertise. It's also crucial to check the condition of their items to assess them correctly.
Aside from examining products from the same website, take the time to look through other websites' listings of the same objects. If an item fetches a higher price on another platform or you notice that certain types of items sell well there, you should consider selling on that platform instead.
Post eye-catching photography for your stuff.
Since potential buyers can't examine the items personally, presenting high-quality photos when selling remotely is crucial. Make sure to upload pictures of the items showing different angles.
It's also recommended to have an aesthetic feed when using Instagram or stylish pictures when selling on e-commerce sites. It's a great way to catch peoples' attention on visual platforms like Instagram. Better looking feeds get higher engagement, more shares and build followings.
Include titles and descriptions in your listings for effective local selling.
What information should you include in your listing?
A title containing the brand and product name. 
Brand names are especially important for items from popular companies, or where brands matter e.g. luxury items. 
Use lots of keywords in your title and description.
Buyers use those keywords to search for items on the platform. Your listing has more chances of appearing in front of buyers if you have more keywords, and hence more matches.
Keywords to use include: the type of item you're selling (e.g. wicker chair), the brand and product name, and the condition of the item. 
Condition of the item. 
When selling a used item, its condition can vary. Buyers are often wary of this fact. Therefore, you must be as descriptive as possible with your description of its condition. 
There is some shorthand you can use, like:
Brand new in box – for items that were never opened
Like new – for items that have been used, but so lightly that you wouldn't be able to tell that it's been used. 
Well used – if you've used it for a long time
However, you should go a step further and describe any defects. You should also justify why you might consider something "like new", or "slightly used". For example, if you're saying that your item is "like new", you could tell the buyers the story of how you received the item as a gift but ended up using the item just once so it's as good as new. 
You can also give it an out of 10 rating. Like condition: 9/10. 
Whether you're open to negotiating. 
When selling used items, expect haggling! Lots of it. You want to give the buyers some wriggle room without locking yourself into long drawn out negotiations over price. 
So let them know that negotiations are possible, but only serious offers will be entertained. Or, you can just say no haggling allowed if you want to avoid all the trouble.
Never, never say what's the minimum price you'd accept in the description though – that's a sure fire way to only get your minimum price. 
Shipping policy.
Are you willing to ship the item out? Will you cover the cost of shipping? Or do you want the buyer to come and pick the item up? 
Those are important things to state up front in the description. This will help you avoid communicating too long with buyers who aren't qualified to get the item from you. 
How to safely sell items online?
According to Statista, there are around 2.18 million complaints involving fraudulent sales in the US. But don't worry, you can definitely avoid fake buyers on online sites.
So how can you avoid scams when selling old stuff?
Always use trusted websites, like the ones we mentioned in this article. It's helpful to take note of their current active users when determining credibility.
Avoid shipping the items without any down or full payment from the buyer.
Make sure that you're dealing with a real person and not a scammer. Ask for IDs to assess the potential buyer's identity.
If possible, read profile reviews from other sellers. Choose buyers who have high ratings.
Choose shipping methods that require the recipient's signature.
Trust your instincts and let doubtful buyers go. There are hundreds of potential buyers you can communicate with.
Conclusion
Indeed, you can earn some money from selling second hand pieces to different websites, such as Craigslist, Facebook Marketplace, Nextdoor, eBay, Decluttr, LetGo, Instagram, Tradesy, Carousell, Poshmark, and Etsy.
Do you have any tips for selling your used items locally online? Let us know in the comments!