Christmas is almost at the door! We all love that wonderful time of the year that brings with it that childhood nostalgia of Christmas: presents, fairy lights, kisses under the mistletoe, eggnog and 'Santa'.
As a grown up however, that eagerness for Christmas can quickly be replaced by stress: money spent on Christmas gifts, a lavish spread for dinner and of course, Christmas decorations.
But Christmas doesn't have to be expensive! In fact, with tons of great DIY Christmas decoration ideas on the web it's mind boggling just picking one to start on. The best part about DIY decorations is: it not only saves you some much needed cash but will also go a great way into engaging your kids and directing that overflowing energy into a productive activity!
Before you break out your crafting kit and reach for the boxes of lights and decorations from that musty corner of your attic, remember that there are some areas where you might wish to SPLURGE! Like everything in life however, the important skill is in knowing when to save vs splurge.
When to save? Ask yourself three essential questions.
So how should you decide on where to save vs splurge? Prepare yourself, because we're gonna  arm you with some essential questions you should ask yourself to decide whether you should splurge or think twice before going on an all out rampage.
Question #1: How long will this last?

 
First ask yourself if your decorations can be reused. Why scrimp and save on decorations that can be used every Christmas? Consider decorative pieces with a such longevity as an investment and don't be afraid to break out the wallet if it rewards your home with Christmas joy year after year. Similarly, save on pieces that will only make an appearance once.  
Question #2: Can this have "Family Value"?
Great Christmas decorations can be a sort of family heirloom, passed down from generation to generation. Your children and grandchildren can be reminded of you every year when they get together and put up their decorations. We suggest putting a little DIY spin on these pieces to make them personal to your family and involve your family in crafting them. This will remind them of that family time spent making them together year after year.
Question #3: Is this a centerpiece in all my decorations?
Ask yourself: what do your guests' eyes automatically fix upon when entering your house for Christmas?
For example, if you look at a Christmas tree, what do you notice immediately? Well, it's 'the star on the top of the tree' for us! Investing on on things that are the center of attention will allow you to save on the less noticeable items. These savings could more than offset the amount you spent on the centerpiece.
Now test yourself with these Christmas decoration examples!
The rest of this article lists just a few Christmas decorations for you to decide whether to save or splurge. Now that  you're armed with the three essential questions, take a guess as to whether we'd save or splurge for each decoration, then scroll down to see what we voted!
Christmas Tree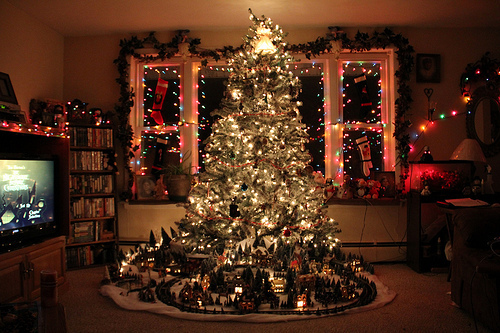 Our vote: SPLURGE!
Imagine all your family and friends walking into your living room or hallway and being awed by your magnificent christmas tree, sitting in the center with all its presents, lights and christmassy glory.
It's the centre of all festivities where the family comes together to open gifts while you take pictures and make memories. Whether you are planning to go eco-friendly and buy an artificial christmas tree or keep in the Christmas spirit and go for a real tree, we say 'splurge'. Your tree will be the center of all your decorations and everyone's eyes will be set on it.
Now, you might already have a tree from last Christmas but this can be your excuse to swap the old one for a newer tree that will last you longer and can be reused. As a starting point, you could check out balsam hill trees, which we love. They have a large variety to choose from and also fit every budget.
Bonus tip: You could go for a pre-lit Christmas tree. These trees have lights already built into them so you don't have to spend more on lights and ornaments!
Ornaments
Our vote: MIX IT UP!
Ornaments are something you can do so much with. From splurging on exquisite glass pieces, eco-friendly new world pieces, to cheap DIY pieces; there are simply countless options available out there.
So don't bother too much! You can invest in one or two beautiful pieces and keep them as heirloom pieces to cherish and pass on to your kids (preferably something with personal or native value).
For the major part you can simply pick up affordable pieces from walmart or decide to DIY your ornaments. This can also be a fun way to involve your relatives and kids in a family activity.
If you're going the DIY route, there are many great ideas flowing around the internet for making your own ornaments, but we've picked some easy and fun ones just for you:
Use wooden small blocks to paint and make quirky ornaments.
Fancy ribbons

come in christmassy patterns and colors too and are an inexpensive way to add splashes of color to your tree.

Upgrade your simple glass ornaments and turn them into masterpieces ( you can do anything with them from painting to filling them up with cute christmas things)
Pine cones– use pine cones by spray painting them with silver, white or gold and sprinkling some glitter on them. Hang them using red ribbons.
Bonus tip: talk to a few friends about going DIY this Christmas and share on the cost of materials! For example, these christmas ribbons come in long reams that can be shared by three or more families!
Gift wrapping paper
Our vote: SAVE!
Think about the last time you received a present: were you more concerned about what the present was wrapped in or the actual present itself? Sure, some people care about gift wrapping, but when it comes to kids, it probably doesn't matter 99% of the time. So why spend so much effort on something that will ultimately be torn off and thrown away without a second thought? This is a great opportunity for you to cut back on your decorating costs for Christmas.
We know, some of you will still say 'But, beautifully wrapped gifts look nice under tree and have their own charm'. Well, worry not! We've got you covered. Scroll down for some gift wrapping ideas that will be pleasing to the eyes as well easy on the pocket:
Use maps as wrapping paper for giving that 'edgy' look to your gifts.
Instead of plain brown paper, use coloured and printed tapes to make designs on your gift wraps.
You can make cute stamps out of foam sheets or potatoes and blockprint your wrapping paper.
Use black paper sheets to wrap that can be painted on with white colour to make designs and personalise.
Use pom-poms, mirrors , stars, etc to make your gifts look fun.
Christmas lights
Our vote: SPLURGE!!
Christmas lights are something you will be using every year. Why not make a one time investment in some good lights than buying anew each year.
The best part is, you can always use these lights for regular parties and get togethers throughout the year for that extra bling.
We suggest the star shower lights. They are absolutely mind blowing and require almost no hard work setting up!
Here are other amazing Christmas lights you can buy online. There are countless options ranging between traditional Christmas lights to innovative and captivating ones that will leave you gasping in delight.
Bonus Tip: Go for 100 to 150-bulb strands. This is because the bulbs are attached in parallel. This means that not all the lights will go out when one of the bulbs die out!
If you'd like to save on this area however, you can check out our guide to spending less on Christmas lights.
Outdoor decorations

image
Our vote: WE'RE SPLIT!
We have found that outdoor decorations are something that's completely up to personal taste and preferences. There's always at least one house on every street that turns their front yard into a Christmas wonderland every year. Even though the same decorations go up over the festive season,  it never ever looks tiring! In fact, it's almost a welcome call to the season that helps usher in the holiday mood.
If you are a family that celebrates Christmas on a large scale or wants your house to be the 'christmas wonderland' of the neighborhood , you might want to splurge on this one.
We suggest doing some easy and sturdy DIYs as they not only look amazing but also bring out the whole christmas feel. You can surf pinterest for some surprisingly easy to do ideas or have a look at some of our front yard picks.
Mantel pieces and stockings
Our vote: SAVE!
If your beautiful Christmas tree is the star of the show,  then your mantel decorations now serve the important role of a supporting cast. With the flashy and colorful lights on the Christmas tree, and with less attention on your mantel decorations, you can afford to save here!
Use subdued and subtle colors here in contrast to the Christmas tree.
We suggest using family pictures as one of the main objects. They can be pasted together to form beautiful picture wreaths for everyone to see or you might paste them on wooden/ cardboard strips along with other knick-knacks (like cards, cutouts, etc.) and arrange them into different shapes.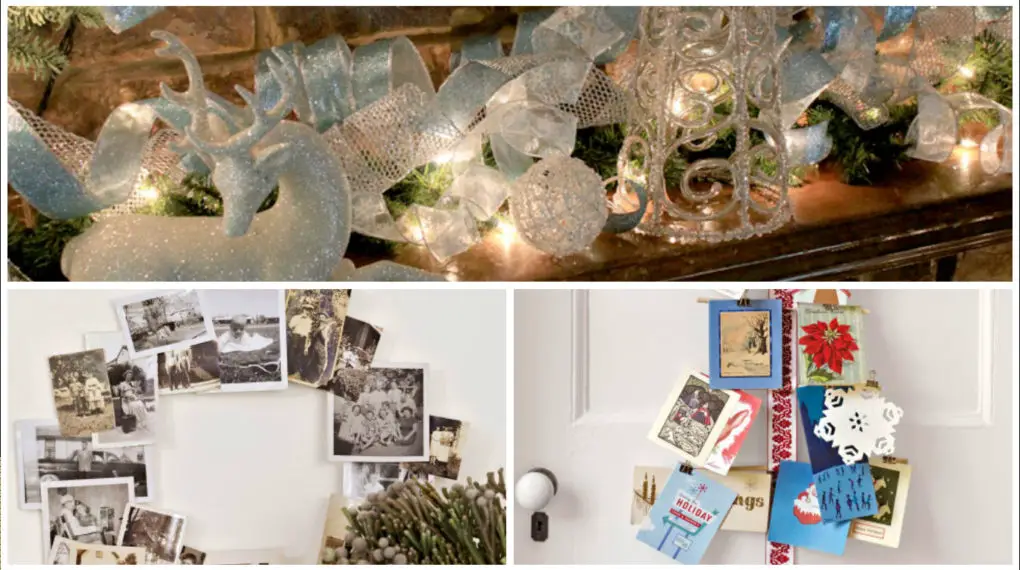 Stockings are something you can buy from Walmart that start as cheap as $1.95 and can go up to $20-25. However, you'll notice that the more expensive stockings are usually personalized ones. You could easily get a lower-end stocking and decorate it at home to add that personal touch of each family member. If you have cash to spare, you may also opt to splurge on this one by buying an embellished sock that can be reused the next year as well.
Conclusion
Christmas doesn't have to be expensive, nor do you have to be extra thrifty during this time of giving. We hope you found the post helpful on how to make your Christmas decorations stand out without actually blowing your bank. There are hundreds of alternatives to every decoration and we recommend doing your research before making a big splurge. If in doubt, just remember: it's CHRISTMAS! Do what makes you happy.