Weekends ( 2 days) are so precious because the family spends little time together on weekdays (5 days) as each is either at school or at work.  So you want to make the most of weekends and have fun family activities together.  If you do not have weekend plans pre-planned for the family it is difficult to keep everyone together as each may gravitate towards individual activities rather than spend a weekend with the family. So we decided to give you 79 fun weekend ideas for your family that you can do.
The problem is that you're running out of options! While there are so many things that can keep kids entertained and happy on weekends, sometimes it can be hard coming up with ideas for the family to do together.  We all know how important it is to spend quality time as a family as opposed to individual family members spending time in their own room with the computer.  What weekend activities for kids can you think of?  What creative weekend family activities can the family come up with?  
If you're looking for a new activity, we've put together this list of fun weekend ideas for the entire family. This article is packed with activities that are easy and inexpensive that you can try out on any given weekend. You'll find activities that family members of all ages can enjoy. The best part? You can spend quality time with your loved ones and create wonderful memories along the way.  You can either surprise the family with the planned activity or bond over the planning of the family activity together. 
We've also categorized the list so it will be easy for you to find something to do depending on what your family enjoys. The emphasis of this article is on giving you a lot of activities to choose from so we have not gone into any of the individual activities in any great depth. Once you have decided from this list, you can quite easily find further information from the internet, if necessary.
Weekend Family Activities You Can Do At Home
Playing board games is a great way to spend time with your family and away from electronic gadgets. To have the family seated around a table and having a raucous time interacting face to face is sometimes almost a forgotten ritual. 

With

Netflix, Amazon, and Disney Plus, there's no shortage of movies available online. Choose a theme like a comedy night, Harry Potter, or Disney princess movies and have a movie marathon. Don't forget the popcorn!

Have a spa day at home by giving one another DIY facials, manicures, and massages.

Test everyone's trivia skills by hosting a quiz night. Some inexpensive prizes would add to the competitive spirit and fun.

If you have young girls, they will love the idea of a tea party with dainty teacups, sweet pastries, and cute hats.

Transport your family to the 70s disco era and host a disco dance party. Everyone can dress up and you can take lots of videos and photos to be viewed together later and for posterity.!

You can now tour the world's famous museums like the Louvre and Smithsonian Museum of American history for free courtesy of YouTube!

Watch a free concert on YouTube from the comforts of your own living room.

Have a cosplay weekend by dressing up in your favorite costumes.

Make sock or paper puppets to stage a puppet show.

If you have boys who love video games, make it a family affair by hosting a video game tournament involving the whole family.  

Create a scavenger hunt and let your kids hunt for candy and gifts.

Have a backyard barbecue complete with country music and parlor games.

Belt out your favorite tunes by having a karaoke party. Many songs are available on YouTube so you just need a microphone to complete the experience.

Start and complete a picture puzzle. Once done, you can have it framed.

Have a TikTok dance competition by choosing trendy dance routines online.

Have a lip sync battle.

Create your own music playlists that you can listen to together. It is a good way of finding out the musical genre that the family members like.

Enjoy some smores over an open fire.
Art & Creativity
Little kids love playing with slime so search online for some homemade slime recipes.

Learn the art of Japanese paper folding – origami.

Get some colorful permanent markers and turn ordinary rocks into Pet Rocks.

Look for old shirts and turn them into tie-dye shirts. You can also make tie-dye face masks for kids!

Get crafty by making a family scrapbook.

Recycle paper, plastics, and other materials to turn them into home decors.

Design postcards and send them to friends and family out of town.

Make bubbles at home and have a bubble blowing contest.

Learn how to make friendship bracelets and jewelry.

Pick some flowers and learn flower arranging.

Ask everyone to paint or draw a self-portrait and display them around the house.

You don't need a professional camera to have a portrait session at home. Use your phone camera and be creative in your shoot. Have themes or dress up for the camera. You will have good memories for years to come. 

Let everyone pitch in to write your own story or fairy tale. Each family member has to contribute a specific story event to move the story forward.  

If you love musicals, stage your musical play at home.

Try out your fanciest outfits and have a fashion show.

Use your phone's video camera to shoot a family music video using your favorite song.

Start a family YouTube vlog. Who knows? You might even make money from your vlog.
Learning and Productivity
Make homemade bread. This process can take a few hours so it's perfect if you want to keep kids occupied.

Learn how to make your own pizza dough and put your favorite toppings. You can look up a video recipe online or if you can afford it, book an online pizza-making course with a professional chef.

Have a cookie bake-off and sell them to friends. Make different varieties like butter cookies, chocolate chip cookies, and oatmeal cookies.

Amazed at magic tricks? Look for easy-to-learn magic tricks online or buy magic kits from novelty stores to practice.

Have a mystery box cooking challenge. Divide your family into two teams and choose fun ingredients to challenge your cooking and creativity skills.

Declutter your old items and hold a garage sale. Each member can keep the money they sell from the sale (or a commission).

Start a family book club where you assign a book to read and discuss it every weekend.

Learn a foreign language and practice conversations with one another.

Host a United Nations-themed dinner with every member of the family representing a favorite country. Ask each family member to research the country's culture, learn a few phrases, and share these learnings with everyone.

Learn how to play a musical instrument. You can learn on your own by watching tutorial videos or getting an online coach.

Start a vegetable garden in your backyard.

Landscape your garden by planting plants and flowers.

Plant a tree in your backyard or a nearby forest.

Volunteer in a community charity drive.

Write a fan letter to your favorite celebrity. You can send the messages on Instagram or via email.

Write Thank You letters to local community front-liners like hospital workers, firefighters, and emergency responders. These heartfelt messages can be an amazing way to show our appreciation for our local heroes.
Nature and Outdoors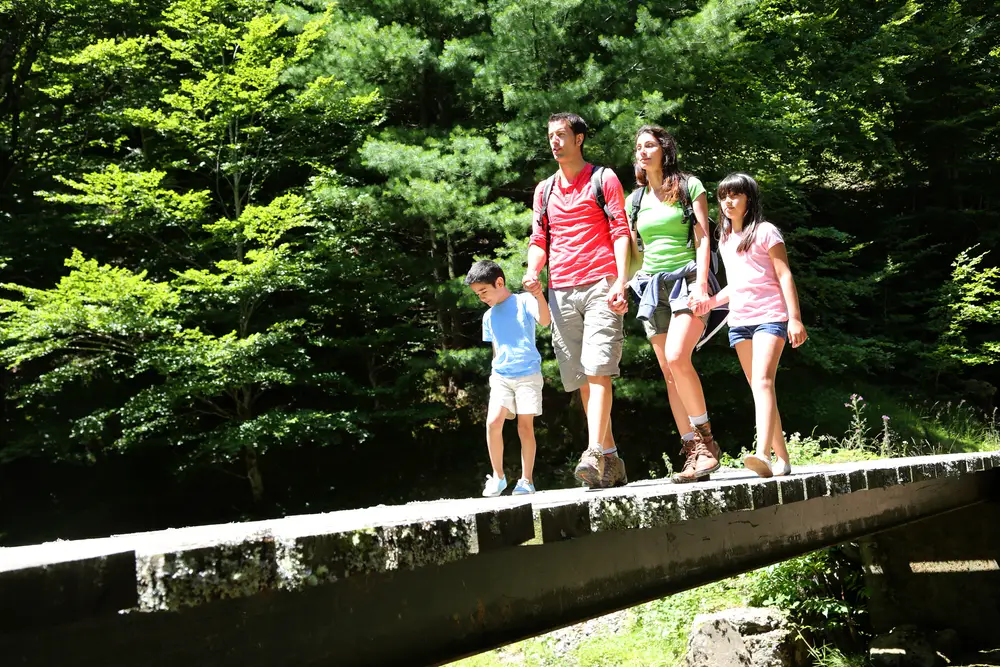 Visit a National Park near your home. There are 423 National Parks in the United States that you can explore.

Go on a nature trek with the whole family to enjoy the beauty of nature.

Plan a weekend camping trip. You'll need to find a camping ground and buy camping essentials. Make sure to check the weather before you go

Spend the day at the beach to swim and make sandcastles.

View the sunset in a scenic area in your city. This can be at the beach or a high area with views of the entire city.

Enjoy an outdoor picnic in a nearby park.

Go on a fishing trip and have some fresh catch for lunch.

Make kites and learn how to fly them. There are also kite kits that you can buy where you just need to assemble the kite.
Sports and Fitness
Go on a bike tour around your city. There are also guided bike tours if you want to know more about your local culture.

Have fun at the bowling lanes. If you enjoy this activity as a family, make it an annual family tournament.

Go rollerblading or ice skating in an indoor park.

Learn how to surf or stand-up paddleboard.

Play mini-golf. This is more challenging than you think!

Go on a kayaking adventure. This is a great activity for older kids and teens.

Try out a Kids Adventure Courses with obstacles and zip lines.  

Play volleyball at the beach.

Have fun and race each other driving Go-Karts.

Jog around the neighborhood with your pets.

Practice yoga and meditation at home.

Learn how to ride a horse or ponies.   

Have a Frisbee game.
Sightseeing and Entertainment
Be a local tourist and go on a self-guided walking tour of your city's scenic spots.

Try out local food places by going on a local food tour.

Enjoy a trip to the zoo or visit your local aquarium. This is a great way to teach younger kids about animal life.

Go on a road trip to a nearby state or city.

Visit a local farmer's market to shop for fresh produce.

Go on a family shopping trip by discovering hidden boutiques and thrift stores.
Have a Fun Weekend with the Entire Family
The weekend is a perfect time for families to spend quality time together. It's also the perfect opportunity to try out new activities that you never would have had the chance to do during your workweek. To make your weekends more exciting, try out these different ideas. Not only will these activities make spending time together more enjoyable and memorable for everyone in the family, but they will also create an opportunity for the family to discover things they are good at.